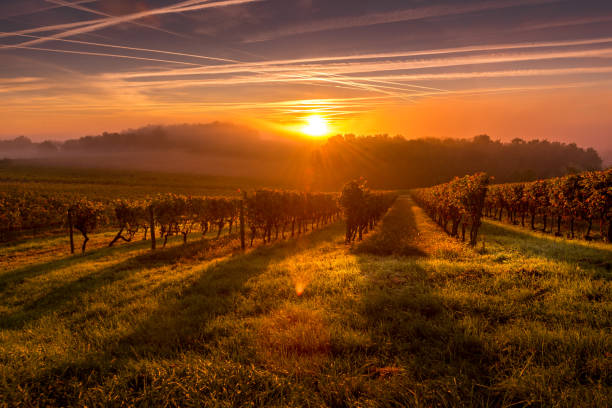 2020 is one of the best vintages in our history, characterized by an early harvest, low yields and a concentrated yet crispy fruit. The winter was mild and rainy, with temperatures that rarely dropped below zero. The buds broke in the middle of March. Unfortunately, on March 24th, some sprouts of Sangiovese were burned by a sudden frost. From April until the end of May we had hot, mostly dry days: shoots growth, flowering and fruit set occurred regularly until the last week of May. June, on the other hand, was rainy, accelerating the growth of vegetation. July was hot and dry, optimal conditions for the veraison, which started towards the end of the month. In August the temperatures increased above 30°C (86°F) bringing vines to a certain degree of water stress. Fortunately, at the end of August, rains arrived in time to alleviate the stress and lower the temperatures that have been moderate at night (15-20°C / 59°F-68°C). At the beginning of September, when we decided to pick the Vermentino and then the Sangiovese, the grapes were extremely healthy and at their peak of fragrance and energy. In mid-September, a heatwave accelerated the ripening of the Petit Verdot. At that time we decided to harvest, together with the drier grapes for Ameri, a week before our forecast and just before a second and longer storm front moved in.
WINES

Luminoso (Vermentino) is very balanced, with moderate alcohol and generous acidity, with intense floral and tropical notes.

Carandelle (100% Sangiovese) is probably the best vintage we have ever produced, with a rich and structured style, a smooth texture and great intensity of ripe red fruit, without being heavy.

San Cristoforo (100% Petit Verdot) has dark colors, almost impenetrable, and the classic notes of blackcurrants, with a solid and dense tannic structure.

2020 Ameri (Governo all'Uso Toscano) has reached a level of quality and finesse which can only impress. Rich and dense, with refined tannins, it explodes into notes of violets and roses and aromas of dark cherries.